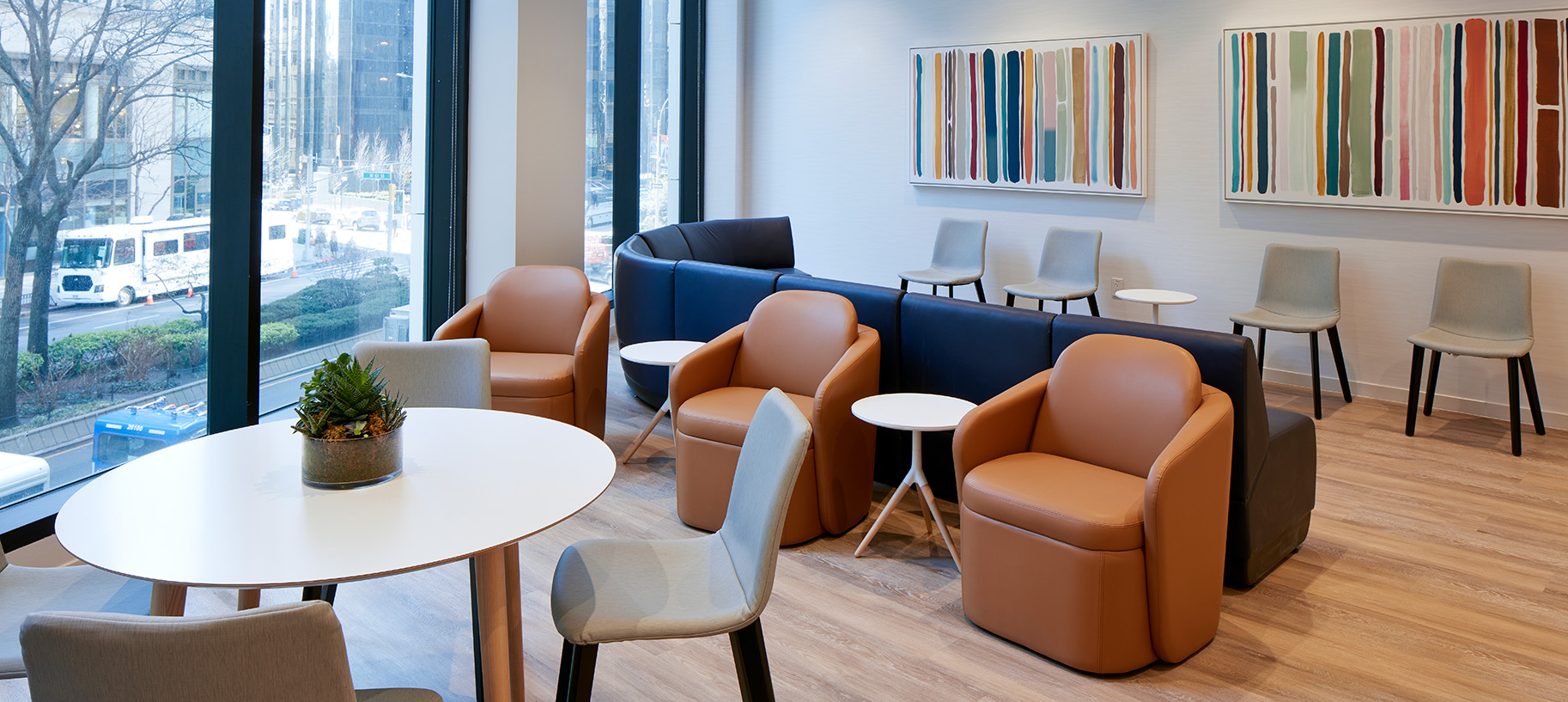 Summit Health
The Challenge
Reimagined Brand for Newly Merged Medical Practices
We began this project at a significant inflection point – after a merger, CityMD and Summit Medical Group were about to become Summit Health, with many locations in the New York Metro Area. We were hired to revitalize separate practices into modern, multispecialty hubs and to establish Summit Health's presence in Manhattan with new flagship locations.
Both companies were long-standing, successful East Coast medical institutions. Summit was an independent multispecialty group, and CityMD was an urgent care provider. They were still figuring out how to merge the two brands, but they knew their existing interiors were dated and they wanted to be more modern and hospitality-focused.
"We quickly realized that we needed to usher the two teams into an imaginative space and inspire them with our design concepts to reinvent a fresh new brand – with one cohesive voice – and create a patient experience that would reflect their progressive care and the company's exciting new chapter," explains Urban Chalet principal, Michelle Granelli.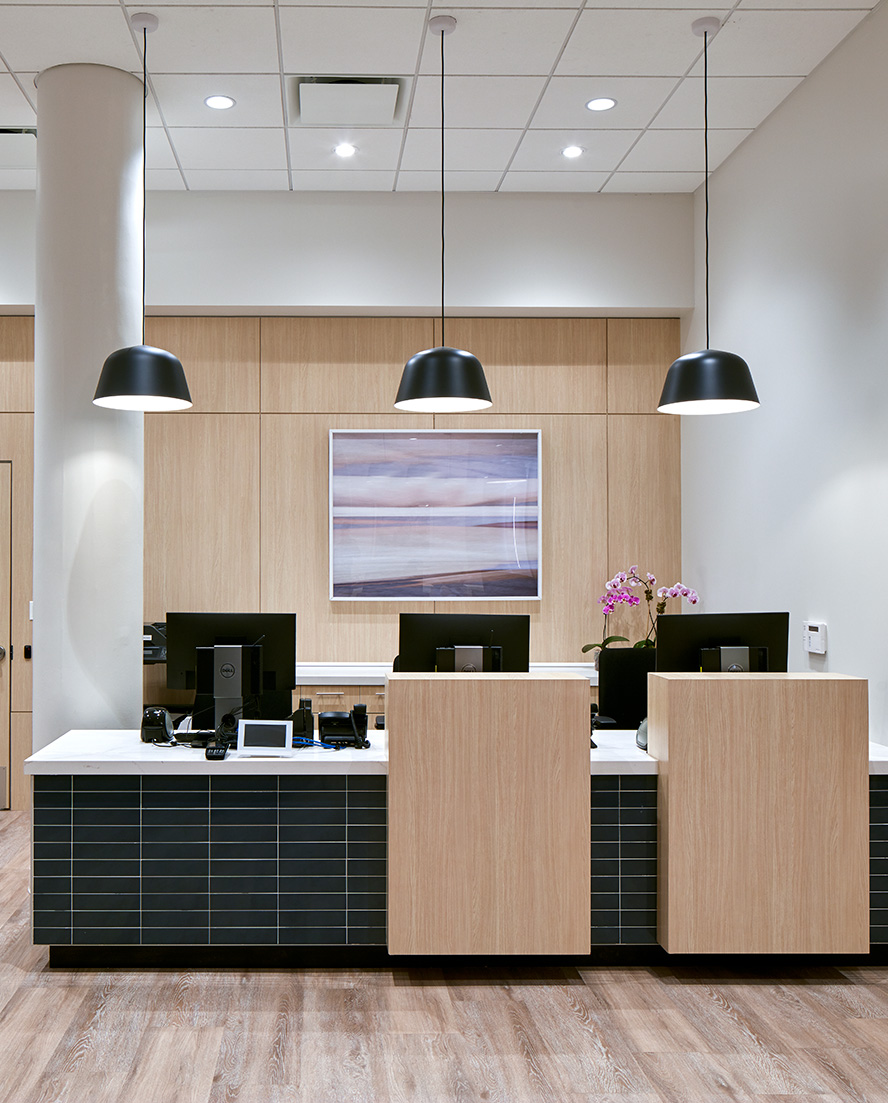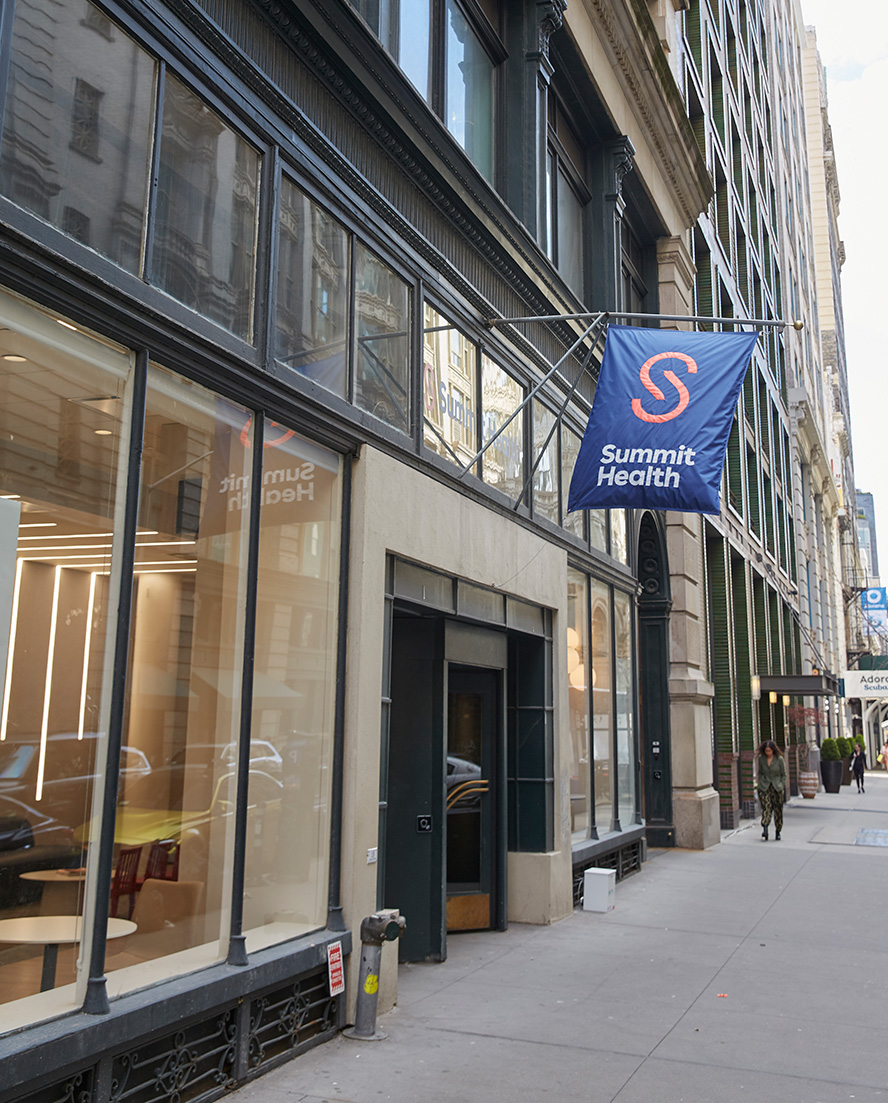 The Results
Manhattan Flagship Becomes Living Billboard
One of the first locations our design team tackled was a multispecialty hub in New York City – an important venture because it was Summit Health's first foray into the Manhattan market.
"We purposefully situated the reception area to take advantage of the ground floor window line so it could function as a living billboard for the new brand. We created a clean, modern and welcoming space to set the tone – even before interactions with staff," says Granelli.
For the entryway design, our team created a bright and comfortable feel, emblematic of high-end hospitality. A hotel-like reception desk removes some of the barriers typically found in clinical environments. We integrated branding and lighting elements into the architecture and installed modern paintings by local artists. Additionally, wood paneling on the walls and ceiling, along with other layered materials and textures, contribute to an elevated warmth and fullness often absent in clinical spaces.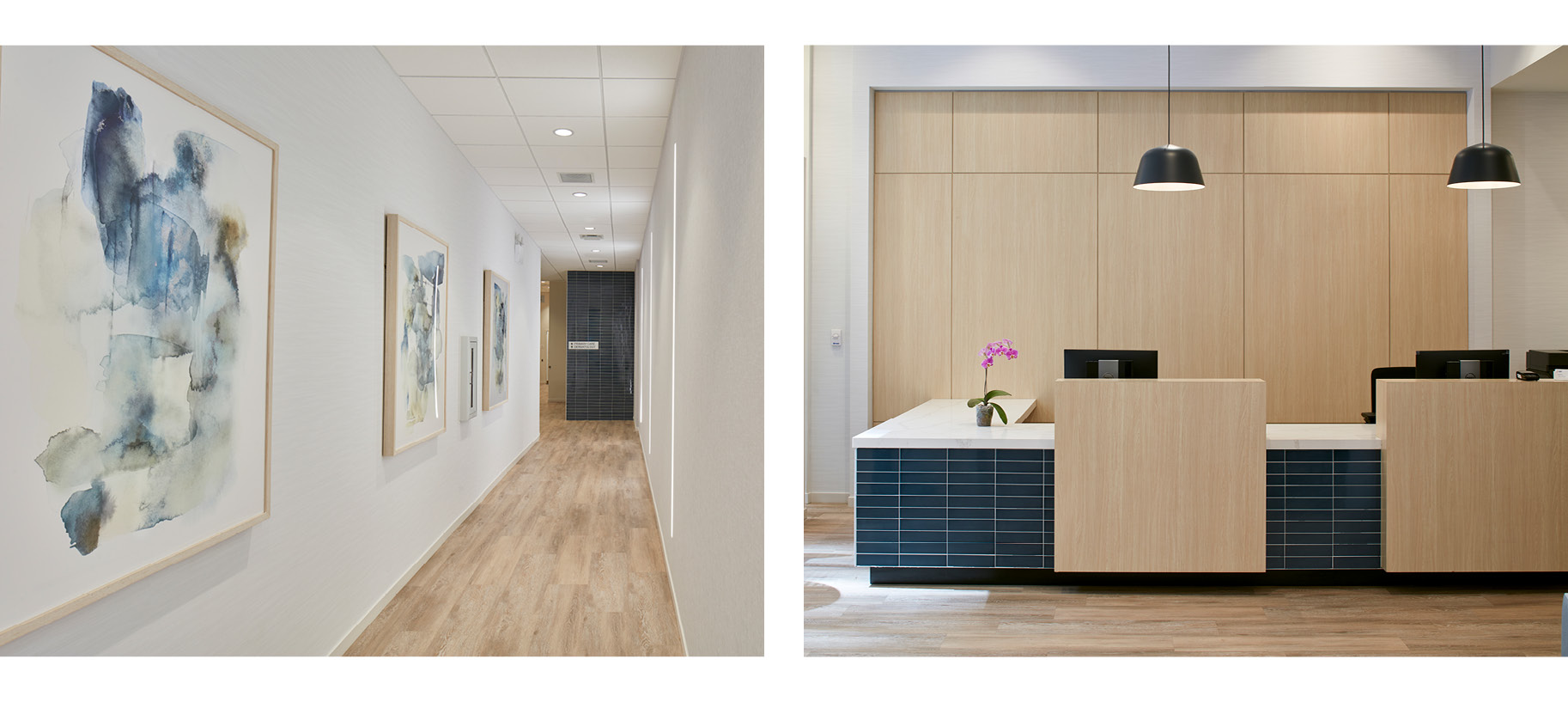 Less Clinical More Welcoming for Multispecialty Hubs
Building off of the Manhattan flagship, we developed design standards for Summit Health's remodels and new builds throughout the New York Metro Area – helping to establish a fresh, innovative look for the brand.
In the new and refreshed palette, we said goodbye to jarring fluorescent lighting and placed artful linear LED recessed lights in varying lengths in hallways and waiting rooms. From stylish bariatric and "hip chairs" to colorful benches and poofs, the seating accommodates patients of every age and varying mobility. We carefully selected high-performance, long-lasting fabrics, and mix-and-match furniture options, allowing for flexibility in reworking the spaces.
Our team created standards for flooring, carpets, and paint as well as for the layout, function, and equipment in the exam rooms and other areas. These standards allow for brand consistency and easeful flow, fostering staff efficiency and collaboration in all locations. Our team managed the integration of these standards into about a dozen new tenant improvement projects over the course of two years.
Tens of thousands of patients are now welcomed into a hospitable, bright, and modern experience with exceptional medical care – we are proud to help Summit Health thrive into the future.